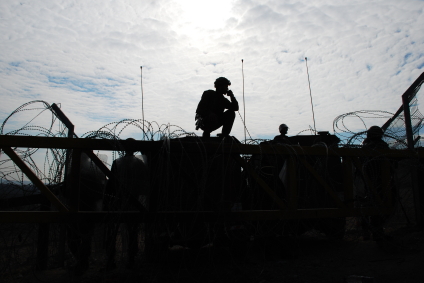 Government & Military Modular Outdoor Enclosures
Government and Military market customers are increasingly looking to Commercial Off The Shelf (COTS) solutions in order to lower costs and improve the time to procure, test and commission solutions. As compared to custom solutions, prefabricated buildings, containers and shelters, Purcell Systems® modular outdoor enclosures allow our customers to save substantial time, capital and operating expense while fully meeting the mission requirements.
Using pre-engineered components, Purcell Systems creates prototype electronic equipment cabinet solutions within a few weeks that exactly match:
thermal management requirements,
equipment mounting space and access,
power and ancillary requirements.
All of this while our global manufacturing capability and tight quality controls assure product availability and reliability.

Government and Military Applications
3G/4G network deployments
AC/DC power management
Auxiliary battery support
Backhaul (wireless backhaul, copper backhaul, fiber backhaul)
Base Transceiver Station (BTS)
Border, port, or perimeter security
Broadband Loop Carrier (BLC)
Cell on Wheels (COWs)
Copper and fiber management
Cross-connect and line protection
Demarcation and distribution
Digital Loop Carrier (DLC)
Digital Subscriber Line (DSL)
E-911 Location Measurement Unit (LMU)
Fixed wireless/microwave
Indoor power and battery support
Line power
Long Term Evolution (LTE)
PCS/Cellular site technology evolution enclosure platforms (i.e., GSM, UMTS)
Power Amplifiers (SCPA/MCPA)
Power termination and splice provisions
Radar Support
Roadside camera and traffic monitoring
Satellite Communications
Surge suppression
Temporary Mobile Deployments
Wi-Fi®/WiMAX®