FlexSure® 12RU Outdoor GR-487 Enclosure
The FLX12-2420 is the most compact model of the FlexSure Series of outdoor GR-487 enclosures, designed to protect wireless data broadband backhaul equipment.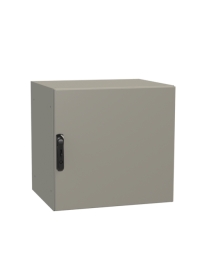 Model: FLX12-2420
Dimension: 23"H x 24"W x 20"D
FlexSure 12RU Enclosure Description
Ideally suited for wireless data broadband backhaul applications supporting advanced 3G and 4G service deployments, the FlexSure WS series is a highly-configurable, and modular, GR-487 certified outdoor enclosure solution.
FlexSure WS applications include backhaul solutions for FTTx, DSL, Broadband Loop Carrier, as well as LTE Node B and Wi-Fi®/WiMAX®. As requirements grow, the FlexSure WS Series modular design allows customers to adapt the cabinet configuration as needed to add more electronics, thermal management and battery backup.
The FLX12WS features a compact footprint with a variety of mounting options, including unique enclosure-on-enclosure vertical stacking (3 units high, 75 lbs maximum load per unit) to maximize available space.
FlexSure 12RU Enclosure Features
23"H x 24"W x 20"D
12 rack units, 19" Rails
5 year warranty / 1 year thermal system
Meets standards:

Telcordia® GR-487 Issue 3
FlexSure 12RU Enclosure Options
Front door; rear door or hatch (per thermal system options below)
Battery box option
Side and/or demarcation chamber option
AC power options
DC power system options
Pad, pole, wall, or stack mount
Thermal Options:

thermoelectric cooler
heat exchanger
air conditioner