StreetFlex
®

Slim DSLAM VDSL Enclosure

The StreetFlex® enclosure is the optimal solution for deployment of VDSL equipment, power and batteries; leaves a small footprint, and will withstand harsh weather conditions.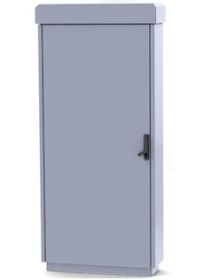 Model: STFX-3011
Dimension: 30.3"W x 11.3"D x 55.1"H
StreetFlex Slim DSLAM VDSL Enclosure
The StreetFlex DSLAM/VDSL enclosure, serves as a durable and environmentally controlled cabinet for fast outdoor deployment in a digital subscriber network. The cabinet is used in a densely populated network with the possibility for future extension; side and back panels, roof and door are easily exchangeable.
Energy-efficient thermal management solution includes a cabinet wall-integrated heat exchanger with extremely low power consumption.
StreetFlex Slim DSLAM VDSL Features
Slim design for sidewalk deployments; small footprint
Easily exchangeable parts for future expansion needs
Power agnostic - supports multiple power system manufacturers
1 year warranty
Meets standards:
IP-55
StreetFlex Slim DSLAM VDSL Options
DC power system options
Custom mounting options
Alarms: high temp, fan failure, temp sensor failure, low voltage disconnect