SiteFlex® 5RU Versatile Outdoor Telecom Enclosure
The SFX05 is a mid-size model of the SiteFlex® remote access cabinets, designed for diversity and versatility of outside equipment deployments.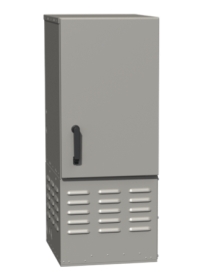 Model: SFX05-1518
Dimension: 24"H x 15"W x 18.5"D
SFX05 5RU Versatile Enclosure Description
The SiteFlex product family from Purcell Systems is as diverse and versatile as enclosures get. The SiteFlex series of enclosures have a size and configuration ideal for every outside equipment deployment requirement you have. From standard, off-the-shelf cabinets to modular, highly configurable enclosure systems, the SiteFlex family can deliver exactly what you need and more.
SFX05 5RU Versatile Enclosure Features
24"H x 15"W x 18.5"D
5 Rack Units; 19" rails
Front door; rear hatch
5 year warranty / 1 year thermal system
Meets standards:

CSA Listed 60950-1
CSA Listed 60950-22
SFX05 5RU Versatile Enclosure Options
Battery pedestal
AC power options
DC power system options
Pad, pole or wall mount
Thermal Options:

Vented plate
Direct air cooling
Heat exchanger