FlexSure® 12RU Outdoor GR-487 Enclosure
The FLX12-3030 is the most compact model of the FlexSure Series of outdoor GR-487 enclosures.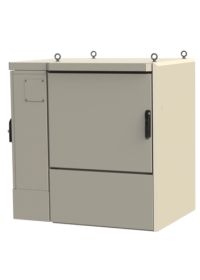 Model: FLX12-3030
Dimension: 31"H x 30"W x 30"D
FlexSure 12RU Enclosure Description
Purcell Systems' Flexible EncloSure (FlexSure®) solution architecture allows the rapid creation and growth of virtually any outdoor cabinet configuration by leveraging pre-engineered common interchangeable components. The FlexSure® series is available in 12,16, 20, 25, and 36 RU equipment bay options.

FlexSure® enclosures are UL 508 Listed, and certified by independent third-party Nationally Recognized Testing Laboratories to Telcordia GR-487. A wide range of thermal management system technologies and capacities ensures that the equipment you deploy in the cabinet will operate within its design parameters with the highest reliability and lowest Total Cost of Ownership. Options include battery backup, AC/DC power termination and distribution, cross connect and line protection, equipment and enclosure mounting features.

FlexSure 12RU Product Features
Telcordia GR-487 certified, UL508 Listed, Seismic Zone-4 rated
Highly flexible and scalable
Energy efficient advanced thermal solutions
Field upgradeable
5 year warranty / 1 year thermal system
FlexSure 12RU Enclosure Options
Front door; rear door or hatch (per thermal system options below)
Battery pedestal option
Side chamber option
AC power options
DC power system options
Pad, pole, or wall mount
Thermal Options:

Heat exchanger
Air conditioner