PURCELL SYSTEMS EQUIPMENT ENCLOSURES & CABINETS
Purcell Systems' solutions specifically address operators and service providers' needs for durable equipment enclosures, modular cabinets, advanced surge protection technology, optimal battery backup enclosures, superior power management, and complete climate control cabinets, for equipment deployments in indoor and outdoor environments.
Not all support solutions are the same, and Purcell understands that each telecommunications network requires a variety of support systems to meet your needs and your budget. Purcell makes the decision easy, by offering specially engineered families of standard, modular, and configurable equipment cabinets to fit every deployment scenario.
FlexSure® Outdoor GR487 Enclosures
Purcell Systems' Flexible EncloSure (FlexSure) enclosures are UL 508 Listed, and certified by independent third-party Nationally Recognized Testing Laboratories to Telcordia GR-487. A wide range of thermal management system technologies and capacities ensures that the equipment you deploy in the cabinet will operate within its design parameters. Options include battery backup, AC/DC power termination and distribution, cross connect and line protection, optical fiber management, equipment and enclosure mounting features.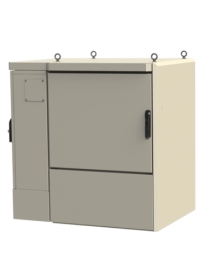 FlexSure 3030 BLS solution architecture allows the rapid creation and growth of virtually any outdoor cabinet configuration by leveraging pre-engineered common interchangeable components. As deployment requirements grow, expandable architecture allows simple field upgrades without service interruption. The FlexSure 3030 BLS series is available in 12, 16, 20, 25, and 36 RU equipment bay options.

FlexSure 2420, 2520 and 2820 WS solutions are ideally suited for wireless data broadband backhaul applications supporting 3G and 4G deployments. FlexSure 2420, 2520 and 2820 features a compact footprint with a variety of mounting options, allowing enclosures to be stacked vertically to maximize limited deployment space. FlexSure 2420, 2520 and 2820 is available in 12 and 16 RU equipment bay options.
SiteFlex® Outdoor NEMA Enclosures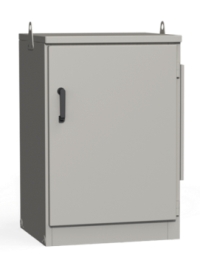 The SiteFlex® product family uses pre-engineered interchangeable components to house a variety of outside plant equipment. Adjustable components, mounting options, and a wide variety of kits and accessories provide the exact enclosure configuration to deploy your equipment in any environment or location. Other options include battery backup, AC/DC power termination and distribution, RF cable management trays, emergency ventilation system, and external alarms. Advanced thermal management systems include air conditioning, heat exchangers, direct air cooling, and thermoelectric cooling. The SiteFlex enclosure supports the FlexAir® door that allows the cabinet to be divided into multiple thermal zones supporting vastly different equipment operating characteristics with the highest reliability and lowest Total Cost of Ownership.
FlexAir®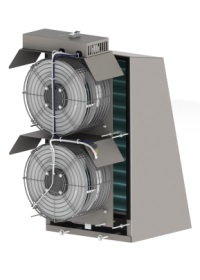 The FlexAir® product family is comprised of Purcell System designed thermal systems including direct air cooling, heat exchangers, battery cooling systems, and heaters. The thermal systems are designed to complement Purcell Systems' or other manufacturer's enclosures and shelters.
Green Free Cooling System is optimized for low energy consumption and long filter replacement intervals. The system includes a sophisticated control system to ensure power consumption and fan rotations are kept to a minimum, extending the lifetime of the fan and filter.
The IsoCool® is a stand-alone battery cooling system creating a temperature zone for backup batteries that is lower than the ambient temperature within the shelter. This lower temperature zone ensures optimal performance and extends the batteries' service life.