SiteFlex® 37RU Power NEMA 3R Enclosure
The SiteFlex® 37RU outdoor enclosure is designed to support a varity of BTS applications. The SiteFlex 37RU cabinet can provide AC and DC power and RF cable management. This sturdy enclosure is pad mounted for maximum stability of your BTS application.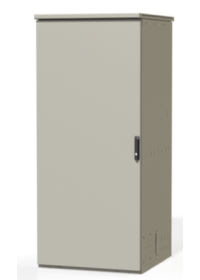 Model: SFX37-3031
Dimension: 68"H x 30"W x 31"D
SiteFlex 37RU Power Enclosure Description
The SiteFlex 37RU Power is designed to support a variety of manufacturer's of Base Transceiver Stations (BTS), the SiteFlex® Power Support Cabinet provides AC and DC Power, RF cable management, battery space and auxiliary user space in a compact, environmentally controlled outside plant enclosure. The SiteFlex AC37 is a scalable enclosure design allows for initial configuration of one BTS, and the ability to expand capacity quickly and easily as the number of BTS's increases.
SiteFlex 37RU Power Features
68"H x 30"W x 31"D
37 rack units; 19" or 23" rails
5 year warranty / 1 year thermal system
Pad mount
Meets standards:
NEMA 3R
UL-508A
SiteFlex 37RU Power Enclosure Options
Front door with Emergency Ventilation System / Rear door with air conditioner
Battery box options
AC power options
DC power system options
RF top options