SiteFlex® SFX18 Power and Battery Cabinet
The SiteFlex® Power and Battery Cabinet serves as a durable and environmentally controlled cabinet for power equipment and batteries.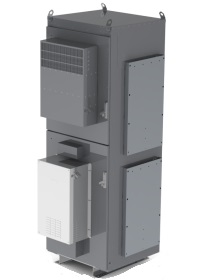 Model: SFX18-3332
Dimension: 32.7"W x 31.7"D x 98.4"H
SiteFlex SFX18 Power and Battery Cabinet Description
The SiteFlex Power and Battery Cabinet is divided into top compartment for power equipment and a lower compartment for batteries with separate access doors for each compartment. The Power and Battery cabinet is the optimal solution for your deployment of power equipment and batteries, leaves a small footprint, and will withstand harsh weather conditions. Segregated power and battery compartments utilize separate energy-efficient thermal management systems resulting in the highest reliability and lowest Total Cost of Ownership, including low maintenance and energy costs.
SiteFlex SFX18 Power & Battery Features
32.7"W x 31.7"D x 98.4"H
18 Rack Units; 19" or 23" rails
Optimized Climate Systems for each compartment promotes energy efficiency and savings
House up to three strings of batteries for maximum back-up capacity
1 year warranty
Meets standards:
IP-55
SiteFlex SFX18 Power & Battery Options
Flexible options for cable ingress, egress, and management
DC power system options
Thermal Options:
Direct air cooling
Air conditioner
Emergency Ventilation System