FlexAir® IsoCool®
Battery Cooling System for Shelters

The IsoCool® is a stand-alone battery cooling system designed for installation within a telecom shelter.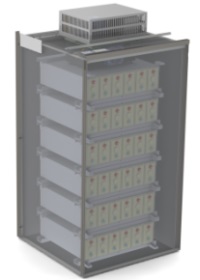 Model: ISOCOOL
Dimension: 35.6"W x 27.6"D x 54.3"H
FlexAir IsoCool Battery Cooling System Description
IsoCool creates a temperature zone for backup batteries that is lower than the ambient temperature within the shelter. This lower temperature zone ensures optimal performance and extends the batteries' service life while minimizing the total cooling cost of the entire shelter. This is achieved by increasing the shelter temperature while maximizing the use of free cooling. IsoCool is a modular enclosure that utilizes an AluZinc frame and Polyethylene foam walls. The modular structure ships in a flat pack, and can be assembled quickly and easily.
FlexAir IsoCool Battery Cooling Features
Modular design for shelter and building interiors
Easy to install in new and existing shelters
1 year warranty
Meets standards:
UL94 flammability
Telcordia GR-487 R3-180 (battery compartment ventilation)
FlexAir IsoCool Battery Cooling Options
300 Watt (1K BTU/hr) air conditioner
Cable ingress and egress on each side panel
ModBus GUI: Web-based interface
Alarms: A/C status, LEDs display, ModBus interface