Green System Room® Three Bay Modular Telecom and Power Cabinet
Green System Room® (GSR) is our larger, modular, scalable cabinet with pay-as-you-grow technology.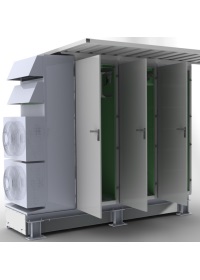 Model: GSR-3B
Dimension: 135"W x 39.2"D x 107.9"H
Green System Room Three Bay Description
The Green System Room (GSR) series uses pre-engineered outdoor enclosures to house a variety of indoor equipment. This scalable and modular set of cabinets provides a pay-as-you-grow approach to expanding your deployment of wireline, wireless, and affiliated power equipment. The GSR series uses the MultiCool thermal management system, which employs both Direct Air Cooling (DAC) and air conditioning (A/C) to maintain the optimal interior temperature while minimizing energy costs.
Green System Room Three Bay Features
Modular and scalable cabinet system design
Smaller footprint alternative to buildings and shelters
MultiCool thermal system uses DAC and A/C for minimal energy consumption
1 year warranty
Meets standards:
IP-55
Green System Room Three Bay Options
Concrete pad mounting or rail mounting
MultiCool 3, 5, or 7 Thermal Management Systems
Rain and sun shield
Alarms: thermal, door intrusion (per bay) and smoke alarms